Rolex and High end, luxury watches are often given as gifts or are passed down within families from generation to generation. They can have great sentimental value to their owners, and as such may be difficult to sell. With Pinto Gold and Jewellery Buyers, you can receive cash for your high end watches, without having to sell them!
High End Watch Brands We Buy
We accept a variety of genuine timepieces, including: Rolex, Panera, Bell & Ross, Constantin, Vacharon, Zenith, Van Cleef & Arpels, Ulysse Nardin, Tudor, Tiffany & Co., Tag Heuer, Lange & Sohne, Piaget, Paul Ditisheim, Patek Philippe, Oyster, Omega, Cartier, IWC, Gubelin, Frank Muller, Daniel Roth, Breitling and more.
---
Rolex Watch Brands We Buy
We are the best second hand rolex watch buyer in Toronto & Barrie. We accept all brands of Rolex Watches including: Submariner, Daytona, President, Date, Gmt-Master, Milgauss, Explorer, Air-King, Sea-Dweller, Yachtmaster, Cellini, Sky-Dweller
---
Air King
Considered the most affordable of the Rolex family known for simplicity and balanced style.
Common Model Numbers: 4499, 6552, 5500, 14000, 14000m, 114200
Explorer
Created in honour of the men first men to summit Mt. Everest, known for withstand temperatures from -20C to +40C.
Common Model Numbers: 16570, 216570, 1655
President
Earned its nickname after being given to former US President Eisenhower and features a calendar mechanism.
Common Model Numbers: 118238, 118208, 18238, 18038, 1803, 79178, 69179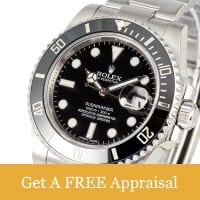 Submariner
The most recognized Rolex because of its black dial and considered to be the James Bond Rolex watch.
Common Model Numbers: 116610, 14060, 5513, 116610LV, 114060, 16800, 14060, 76100
Yachtmaster
available in both men and women's style, in stainless steel, gold and even platinum and known for its flair and fashion.
Common Model Numbers: 16622, 168622, 16623, 169623, 68623
Milgauss
First released in 1956, the Milgauss was designed to withstand the effects of magnetic fields, perfect for scientists working near locations of high magnetic energy.
Common Model Numbers: 116400, 116400V, 1019
Cosmograph Daytona
Designed for racecar driver enthusiasts and can measure speed using its built in tachometric scale.
Common Model Numbers: 6263, 6239, 6265, 6264, 116520, 116528, 116505, 116509, 116506, 116523, 116719
GMT Master
Designed for use by pilots with the ability to set two different timezones. One for the area of departure and the other for the destination.
Common Model Numbers: 1675
Sea-Dweller / Deepsea
Designed for use scuba diving, this timepiece can withstand water pressures from 4000ft/1220m to 12800ft/3900m.
Common Model Numbers: 116660
Cellini
The most modern and sleek looking of all Rolex watchers. The Cellini pulls from the Italian Renaissance for its design inspiration.
Common Model Numbers: 5443
Date
Rolex's first calendar watch which shows the date on the face. This watch has been worm by presidents and nobility.
Common Model Numbers: 15200, 15223, 69173, 79240